Image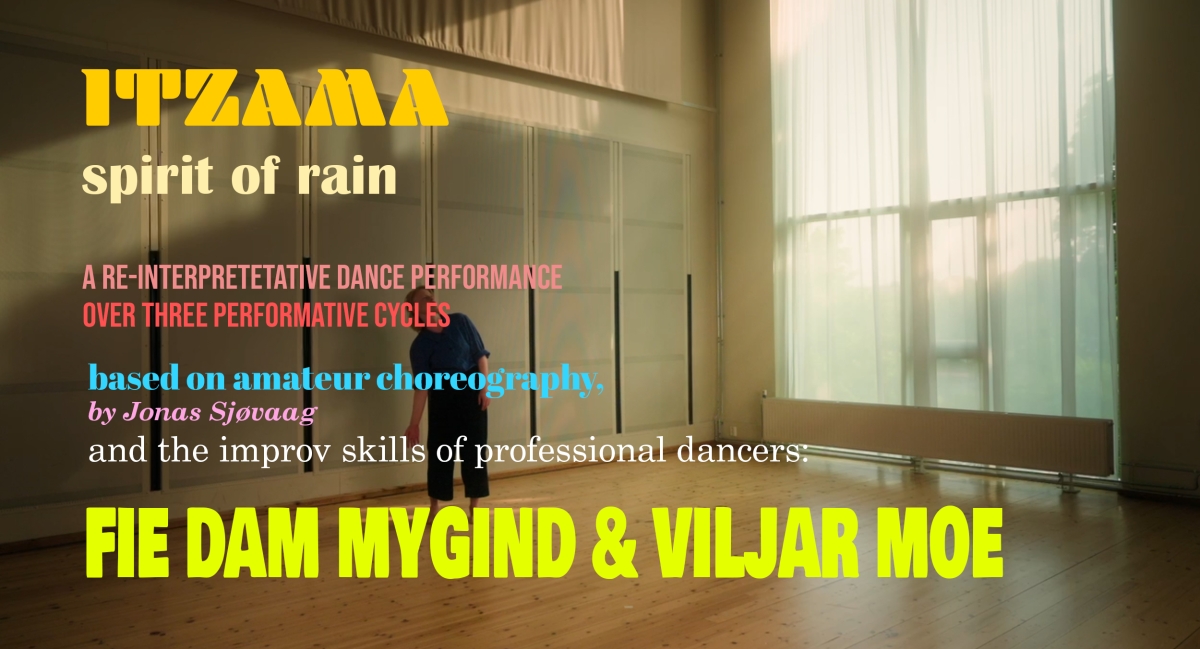 If you came to this page by scanning the QR on my installation piece, then welcome! 
I assume you have already heard a little music, watched a little of the video, and might be wondering what the hell all this is. To be honest, I don't quite know myself. Everything that is viewable inside that box with mirrors, came to be because of a rather random whim, and as I find it interesting, both in retrospect and during the process of creating, to see how much can come from one tiny little idea, here you are, reading this. 
What you are watching is a track, that repeats itself three times, with a stretch of four-on-the-floor bass drum inbetween. This space is reserved for improvised dance, by the dancers Fie Dam Mygind, and Viljar Irtun Moe. 
The video proceeds as follows:
choreography -> improv (Fie)

choreography -> improv (Viljar)

choreography -> improv with separate takes of F&V overlaid
---
And now, onto the written, and long (and in progress) background and reflective part:
Creating Itzama
I was on the bus, listening to William Burrough's "Pook the destroyer", and it was a sunny day. I have heard this track (and album) many times, and I have always (embarrassingly.. ) misheard "Itzama" as "it's summer" and never really thought anything of it. Because of this simple little thing, that was a fortunate mishap, all of the below happened, more or less in the following order:
lyric
song
recording
video
installation
All of these happenings were tailgating one another, and occurred naturally in a stream of creation that I very often find useful for production purposes, and to be honest, also very enjoyable. I always end up in the workshop, in the studio, in the office or wherever I can create what comes next in line, so it's not at all a forced endeavour, nor is it something I can do without proper foundation or starting point. It might probably just be about allowing myself to nitpick at all possible interests in a given topic, but I'd rather just let it happen than obstructing a natural flow by pondering every conceivable why and how. 
---
1: Words on paper
The lyrics in this song is a written response to / rewrite of / reflection on Pook the destroyer, the track mentioned above, by W. Burroughs. The idea for this method came into existence after sparring with AI for a while, and I did that because I wanted to find new and interesting ways for writing. Ideas are always very hard to come by, especially original (and good) ones, yet the world is full of stories and the reality is that wherever you look, there is probably something to write about. In other words, the problem of writing something starts in our minds, and we are our own worst enemies. 
Building on this thought, I suspect that our neural networks are to blame. We constantly train ourselves by repeating patterns, making the connections we prefer stronger, and the ones we do not prefer weaker. It means that it's always a bit more cumbersome looking outside known territory, and coming up with new things, so it takes effort to go there. At the same time, most methods become stale and for many, a need to escape "the current situation" emerge. I'm not a psychologist, but I have a feeling that writers block lives in that unresolved state between "stale" and "comfort". 
So, how to escape this? For me, reacting to something completely different, seemed a viable option. I started out with bits and pieces, fed them into an AI, and tried to make sense of the output from a machine, ie. something devoid of background, experience and the need to tell a story. It quickly became boring. As it turns out, AI is, by default, very, very boring. It's all about numbers, and nothing new comes from it. 
Thus, I needed something else, another way of entering those little known pathways in my own brain. The method I am using here, came into fruition through the work with this actual track, so it is very much research as an artistic practice, in that sense. 
Quickly moving away from what Artistic Research is, and might be though, it will suffice to say that responding to someone else's work, by, for example, establishing an imaginative dialogue with an author, is very different from sparring with an AI. This might be because when we know that the words we are reading came from a real life experience and that they have been written because someone wanted to tell you something, we somehow get tactility from it. We recognize, or trust, a human being on the other end. Because of this, our neural networks triggers physical reactions in our bodies. Again, without being an expert on the brain, I assume it's the same thing that happens when we watch people play music, or doing sports. Watching other people perform a particular thing triggers the neural network in you, which is why when someone extends a hand to greet you, you already know that you are not being attacked. 
Of course, there is nothing new in reading something, and allowing it to resonate. It's most commonly referred to as inspiration, and it happens all the time. What I think is a bit different in this method, though, is that in the process of jotting down words on my tablet, I do not have the shadow of greatness in the back of my mind, and I do not try to create something of equal importance as whatever it might be that I'm currently inspired by. Nor do I have the echo of something I find to be poorly executed, thus resulting in a need to "do better". What I am doing here is in my opinion a much more specific approach: I have a starting point that I (in this case) have a strong connection to, and I then respond to that, almost line by line in some cases, or forcing my interpreted meaning of the original text into verses to be sung. I am not sure if a strong connection is needed at all. In fact, I am inclined to think that it doesn't really matter much. The meaning is found through creation, and creation begins by starting to create. All that is needed is a gentle push to get the ball rolling, and I find this method to be both helpful and interesting, because it is both rather specific, but also very open. 
I suspect almost any text could be used as an agent to get started, and to allow yourself to be propelled through a process of intuitive response to something outside of "the usual", "the self" or whatever term you might prefer. 
This is, btw, the original text, and mine:
Pook the destroyer
William Burroughs
Itzamna, spirit of early mist and showers.
Ixtaub, goddess of ropes and snares.
Ixchel, the spider web, catcher of morning dew.
Zooheekock, virgin fire patroness of infants.
Adziz, the master of cold.
Kockupocket, who works in fire.
Ixtahdoom, she who spits out precious stones.
Ixchunchan, the dangerous one.
Ah Pook, the destroyer.
Itzama
Jonas Sjøvaag 
1: Itzama
Spirit of rain
Shows through showers
for hours
Spirit of early mist
Spirit of snares
Of ropes and spiders
you lean against fire
2: Itzamna
Caught in a web
morning dew
In a new world
Mistress of rare stones
Mistress of ropes
Moonstone and jasper
You lean against rock
Ref.: Where are our masters?
When will they meet,
Where are our masters?
When will they meet,

3: Oh, when, will they?
The most dangerous one
The destroyer
The destroyer
Like mentioned, when I discovered that there was no mention of summer at all, and that "it's summer" in reality was "Itzama", a lot of things changed. 
My first discovery was that Itzama is a Mayan deity. He was the ruler of heaven, day and night, in addition to being the one that gave writing to humankind. He had a wife, Ixtab, who happened to be the goddess of the hanged. Considering this, the foundation for the track changed drastically; suicide and major deities are not the most common topics for tracks within the summer banger-tradition, but luckily I am far more experienced in creating music for the few than for the many, so all in all, it was not the worst thing that could have happened. 
---
As for the music, I initially wanted to make a rather bouncy track that would be played on major radio stations all through the summer. There was also a goal to let electronic instruments control the soundscape, and to make it "future" and "modern", descriptions that in music can just as easily be labelled "uncommon" or "digital" or "processed". 
The process summarized:
Day 1 / Sketching, Recording, Planning
Write textual foundation
Construct repetitive beat, drum machine
Sketch: Record acoustic drums with drum machine as click track.
listen, reorganize, re-record.
Sketch: Layering, harmonic progression.
Evaluation.
Day 2 / Artistic experience, Mixing, Processing
Adjustments based on evaluation after day 1. 
Find the right way to convey the lyrics through song. In this case, they are somewhat otherworldly. Alongside a sound palette dominated by electronic instruments, it made sense to apply this approach to the vocals as well.
Processing: Autotune to smooth out each note, and a pitch shifter to alter formants within a 10% deviation controlled by an LFO. Results in an obviously artificial outcome, but with sonic variation.
Processing of other sound sources, level adjustments, compression, etc.
Mixdown.
Day 3 / Finalization
Adjustments based on evaluation after day 2.
Planning for layering, additional instruments from an external musician.
Modification of voice, by adjusting elements other than the rhythmic ones. Setting up sidechain from bass drum to control compressor on synth (UDO) to create movement in the chorus. Adding noise controlled in the same manner to emphasize movement in the synth. Various choices, timbre, effects, etc.
Mixdown.
Evaluation.
---
4: Video
Image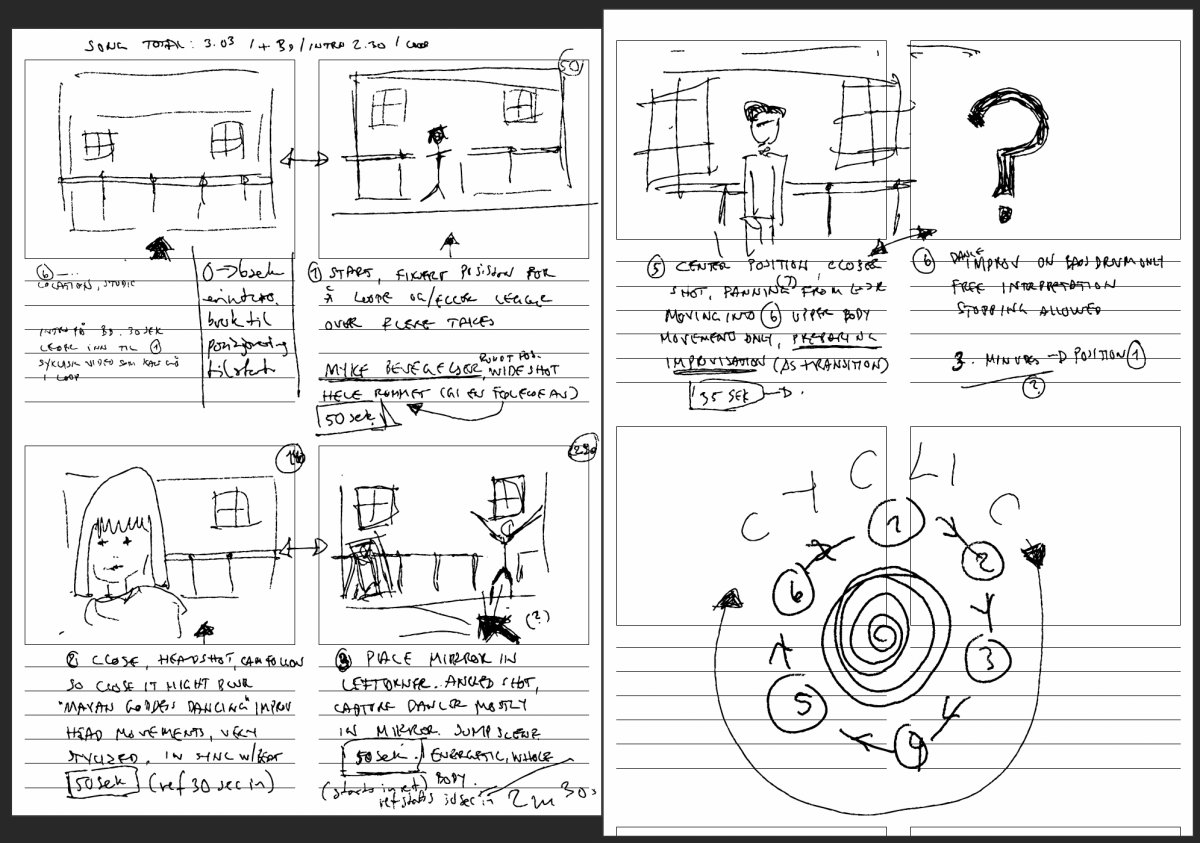 I have made a music video before, I know that the difficulty is not just making it, it is justifying putting in the effort (and the money) in making a product that is extremely hard to showcase properly. Last time I did it, I made a simple little piece where the story was pretty easy to get a hold of. This time, the concept was different, and more difficult in every way. 
As the lyric has all these connotations that are both known, and unknown, to me, though also strangely connected to a "me" without proper knowledge, through the wordings and reading and sound-of-voice that I have enjoyed listening to for years, it came natural to expand on exploring that unknown / familiar / known / unfamiliar territory. Both distant, and close, at the same time, but on a different axis, or, if you will, through different scopes. 
Another factor in this is that when I make a new track, I listen to it continuously more or less until it's done. Hearing it in a loop is thus normal to me, and 3 or 15 minutes is not a big difference. Therefore, the videos basic premise is "interpretation and improv", first by dancer 1, then by dancer 2, then both dancers (in other takes) overlaid in the video. Then it repeats, and it is shot and cut so it can be repeated endlessly. 
As a side note, I strongly believe that you can train yourself to appreciate anything, and if that holds true, it is important to consider. It means that you can put yourself in positions where you are exposed to something, and that exposure will shape what you will appreciate years from now. In other words, if you want to become something, you just become it. 
As this is a simple explanation of the process behind a video, I think it will suffice to say that I find it natural to loop my own music, as that is what I do when I create it. I am accustomed to listening to stuff over and over, and therefore the idea of doing it as an audio track to a longer, but still repeating cycle of video, makes perfect sense. If you find it weird now, try doing it for a few years first, then contact me and tell me what you think. 
Anyway; to achieve the loop, the video has three Cycles: Cycle One is The Track + interpretated choreography (3,15), and a danced & improvised interpretation of that dance over a bass drum pulse (2,20). Cycle Two is the same pattern, but with dancer 2, and Cycle 3 is takes from both dancers overlaid and pieced together to compare the interpretations. To me it looks like choreography all the way through.  
Dancer 1 is Fie Dam Mygind, and dancer 2 is Viljar Irtun Moe. They had little prep time, but were given that image you see above. We met at KHiO, May 25th, 2023. Me, Pierluca, Fie and Viljar. 
Image
The shoot was done according to plan; everything works better when skilled & enthusiastic professionals take part. To break it down, we rigged from 1500 to 1700, and shot from 1700 to 1930. We were out of the building by 2030. 
Grading and editing is obviously a big part of the process too, and working with Pierluca means that the tidbits, ie grading, are properly taken care of. Not just one clip, but on all clips, because they were all possible candidates for usage later. At this stage I only gave feedback on "warmer", "morning-like", "no FX" and so on. The main workload was carried out by Pierluca, who one day sent me this "spot the difference" image (I didn't notice at all, but now that I do, it was worth a days labour). 
Image
After some days of grading, we went a bit back and forth with the editing. I was mostly present, leaving the transitions and fiddly details to Pierluca. 
Image
5
So, after a rather hefty amount of effort, where to present this video? Putting it on YouTube is not really the shit anymore, because everyone looses interest very quickly. YouTube is a competition in attention-seeking, and no art can win against tired eyes and Fail-videos. Especially if the video you enter into the competition is 15 minutes long, and based on contemporary dance & the same song playing over and over. Does that make it less good? No. Will it narrow your audience? Yes. 
I did some research on where to play the video before deciding on creating my own installation piece. First, I talked to a DJ I know, who told me that after covid, BPMs are up, musical interest is down, and people on the clubbing scene are socialites prone to drink and chatter. To me, that sounds like it always was, but on the other hand I have never really been hanging out in the clubs apart from being an occasional late evening spectator. Another option I looked to was to rent a room at Kunstnernes Hus, or similar venue, to have a showcase. But, thinking of it, why make this amount of fuzz for 15 minutes? What do we do before, or even worse, after? After the vid has gone?
There were only two solutions: either 1) do something strange to make the video go viral, or 2) make it into a piece of art to display, physically, so that the entire thing can exist in its own right.
Option 2 was selected, and I went out into my shed, where the following took place:
Getting the digital part done. RPI 4 + internet tutorial, and hey presto! Off we go, with a video looper. 
Image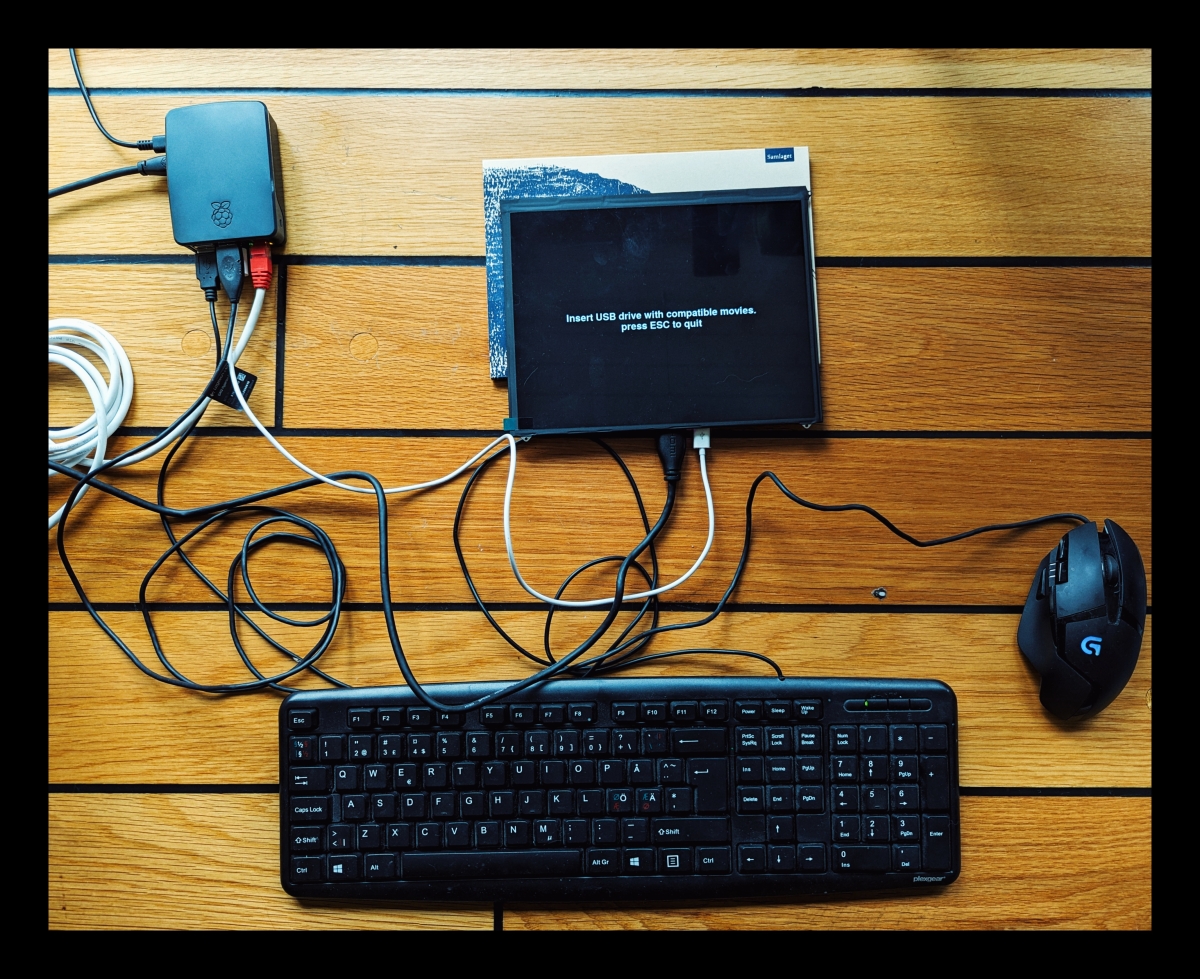 Building a box, or rather, a frame, for the video. The idea is to have the display sit at the bottom (removable, so two parts), and line the insides with mirrors. 
Image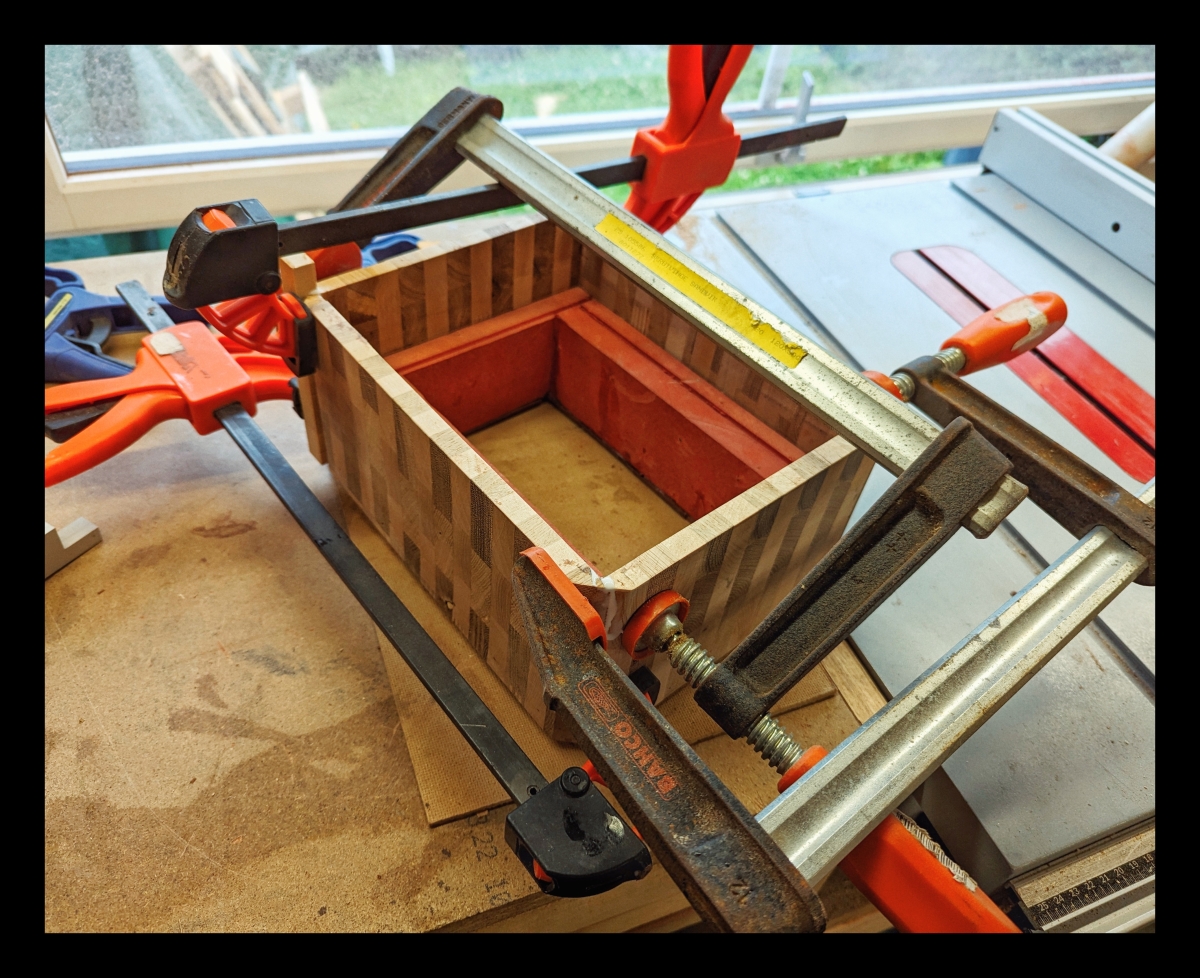 Box #1 looked like an ugly TV from the 60's. My furniture making skills are not quite on par with what is necessary to go down that route, so the idea of using endgrain ash / oak for the enclosure sides was abandoned. Lots of glue lost in this process. 
Image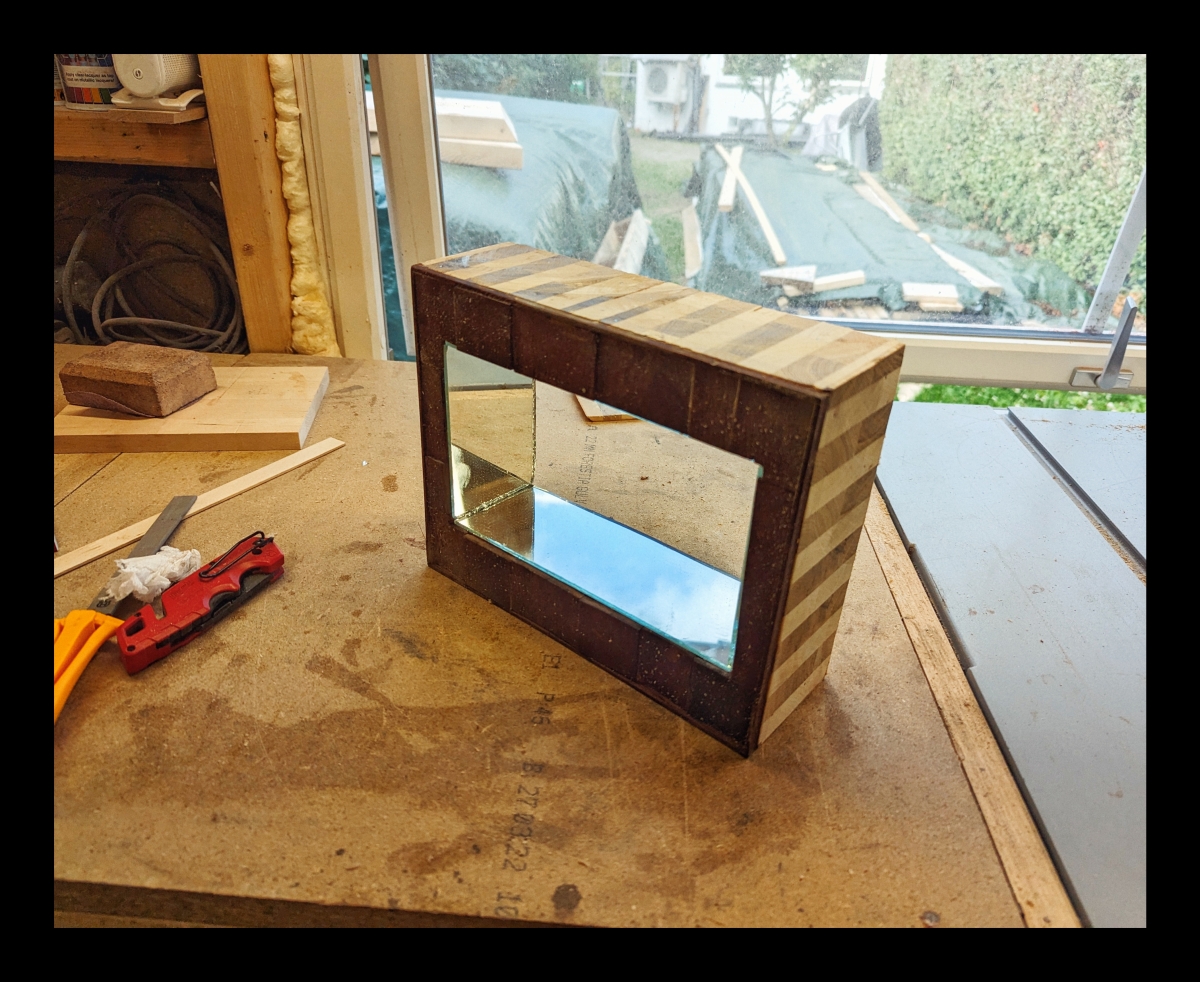 Waste... not a very good feeling. 
Image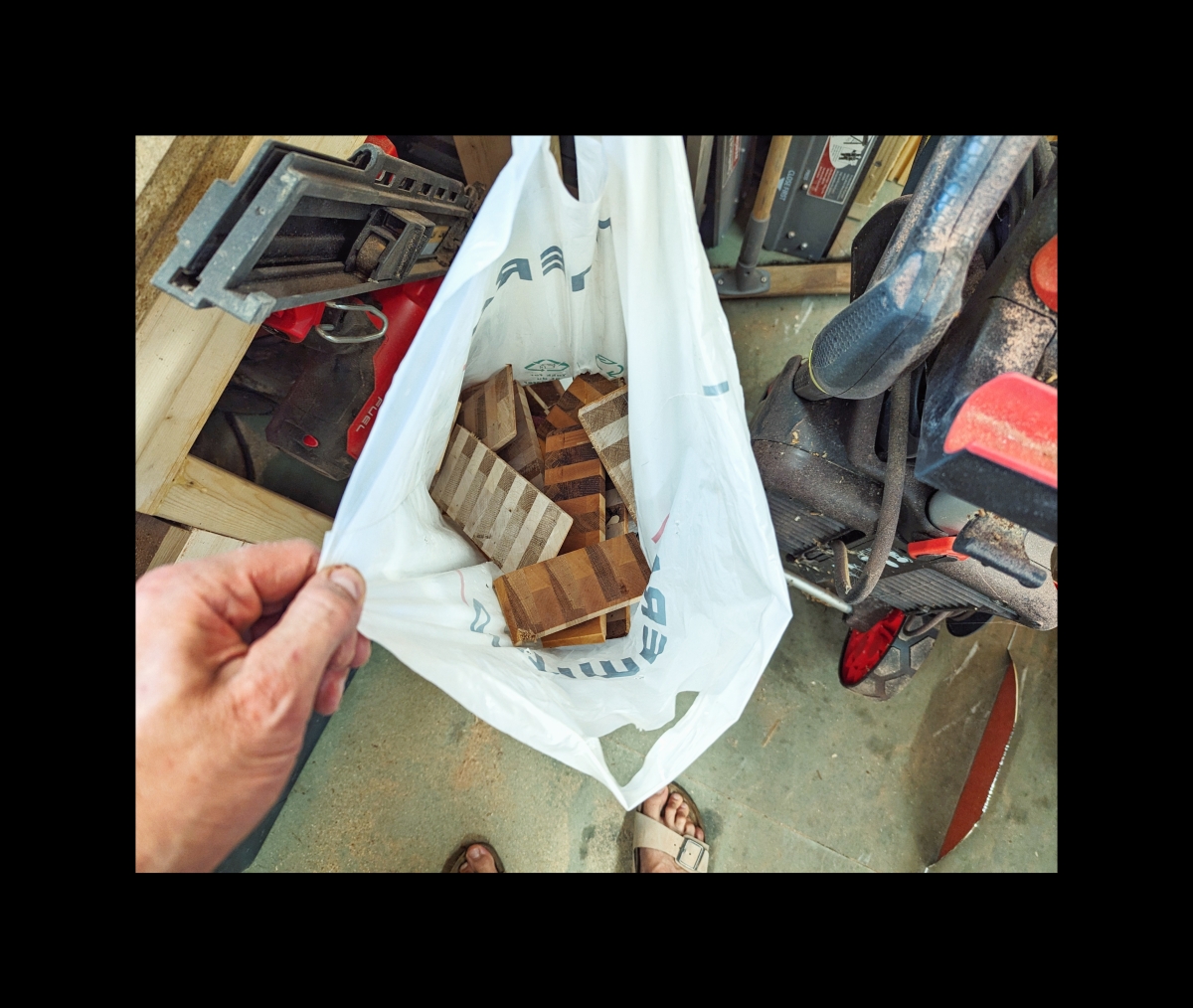 New idea, keep the insides lined with mirrors, and frame the box with mahogany. Then, build another frame around this, both for support of the base unit on which this thing will rest, but also to give it a new-ish feel. Valchromat used. 
Image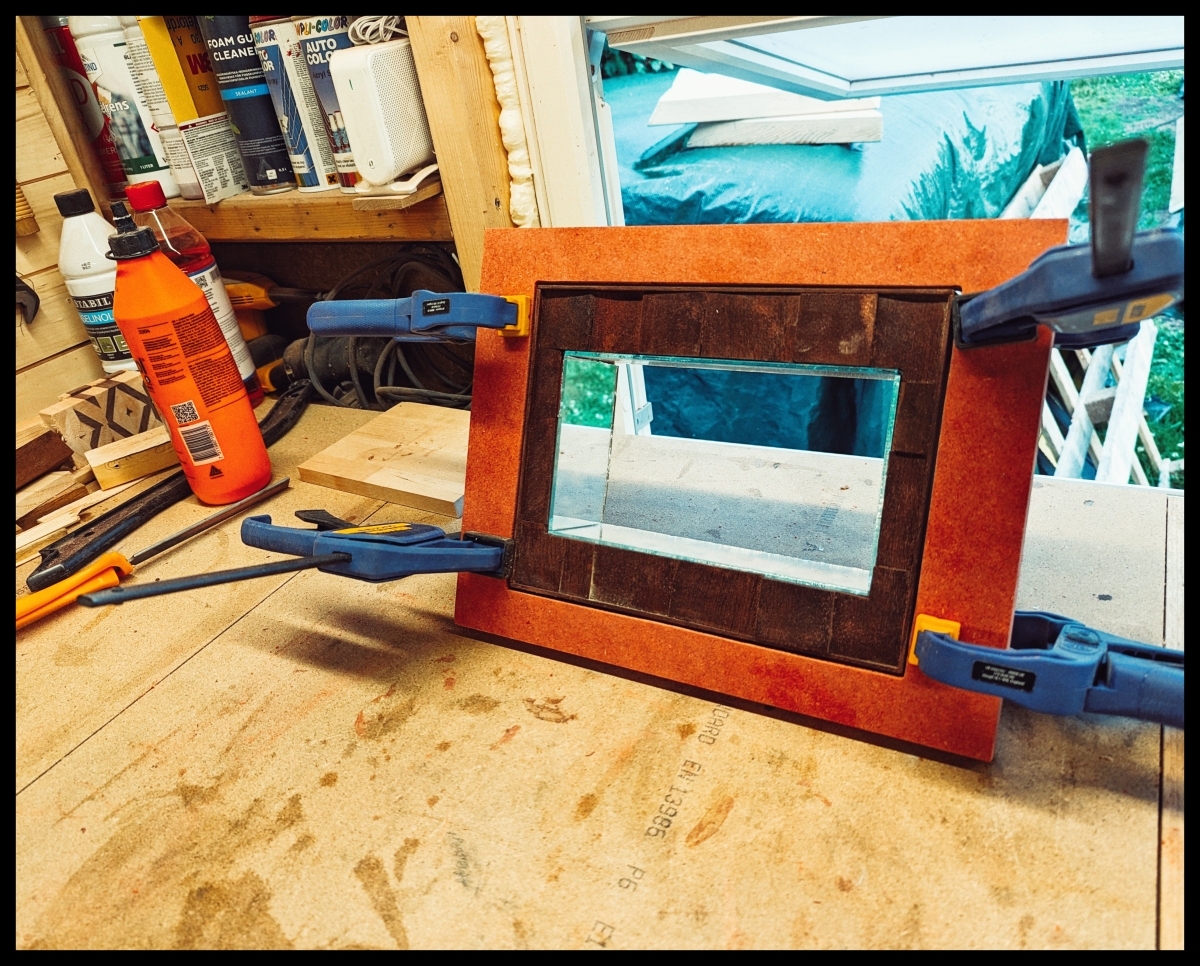 This looks good enough for a pic. First test of the display unit, mirrors above LCD screen. 
Image
So, next up is the base unit. This will hold the display, and make it an installation. I initially wanted to build a box using valchro, but with the burn of that "TV from the 60s" fresh in memory, I decided on something more alien. Enter construction foam... the pipes are standard drain pipes. 
Image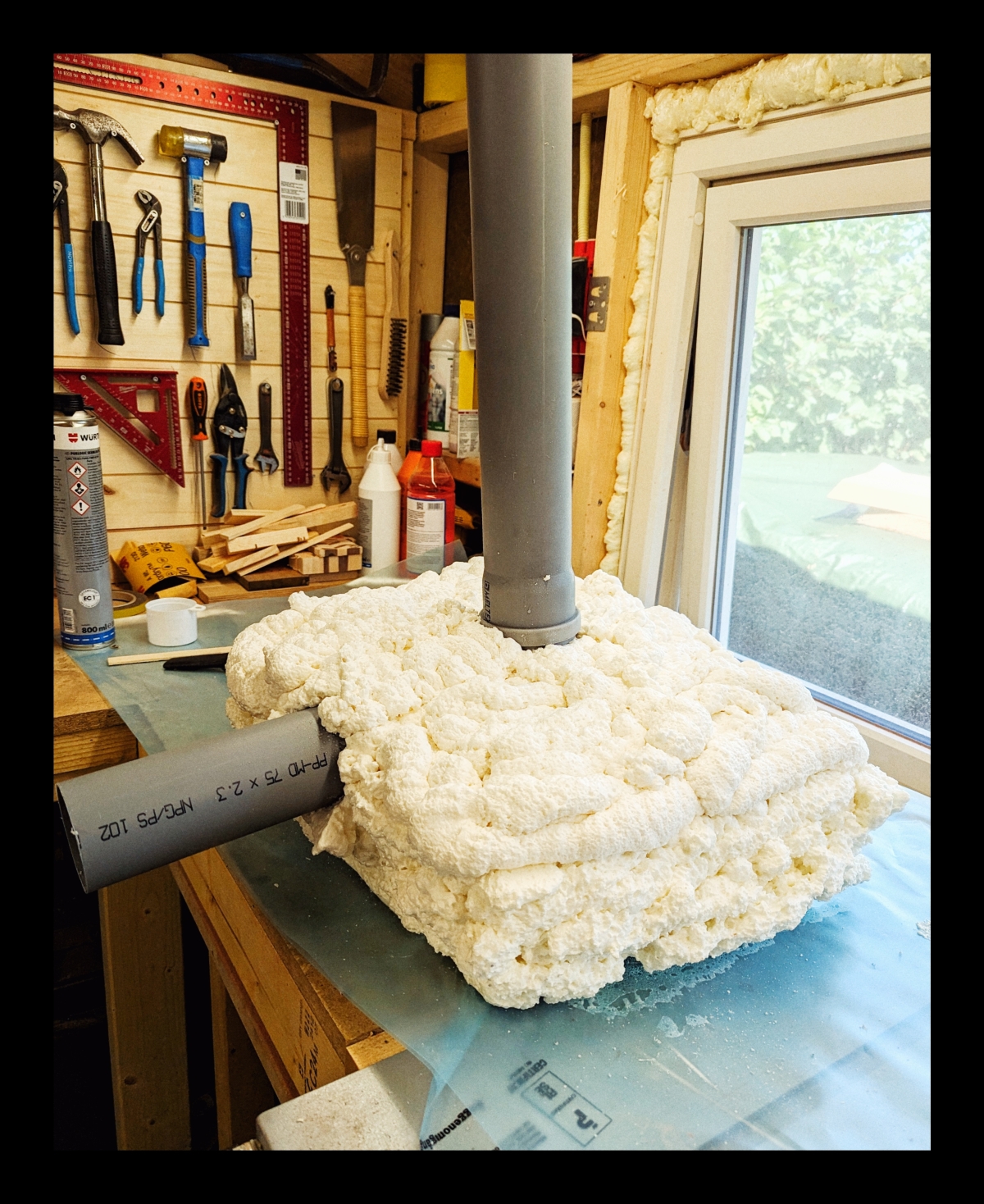 A quick shot of the display unit (rear). Everything comes from the unit, and it only needs to be connected to power to work. 
Image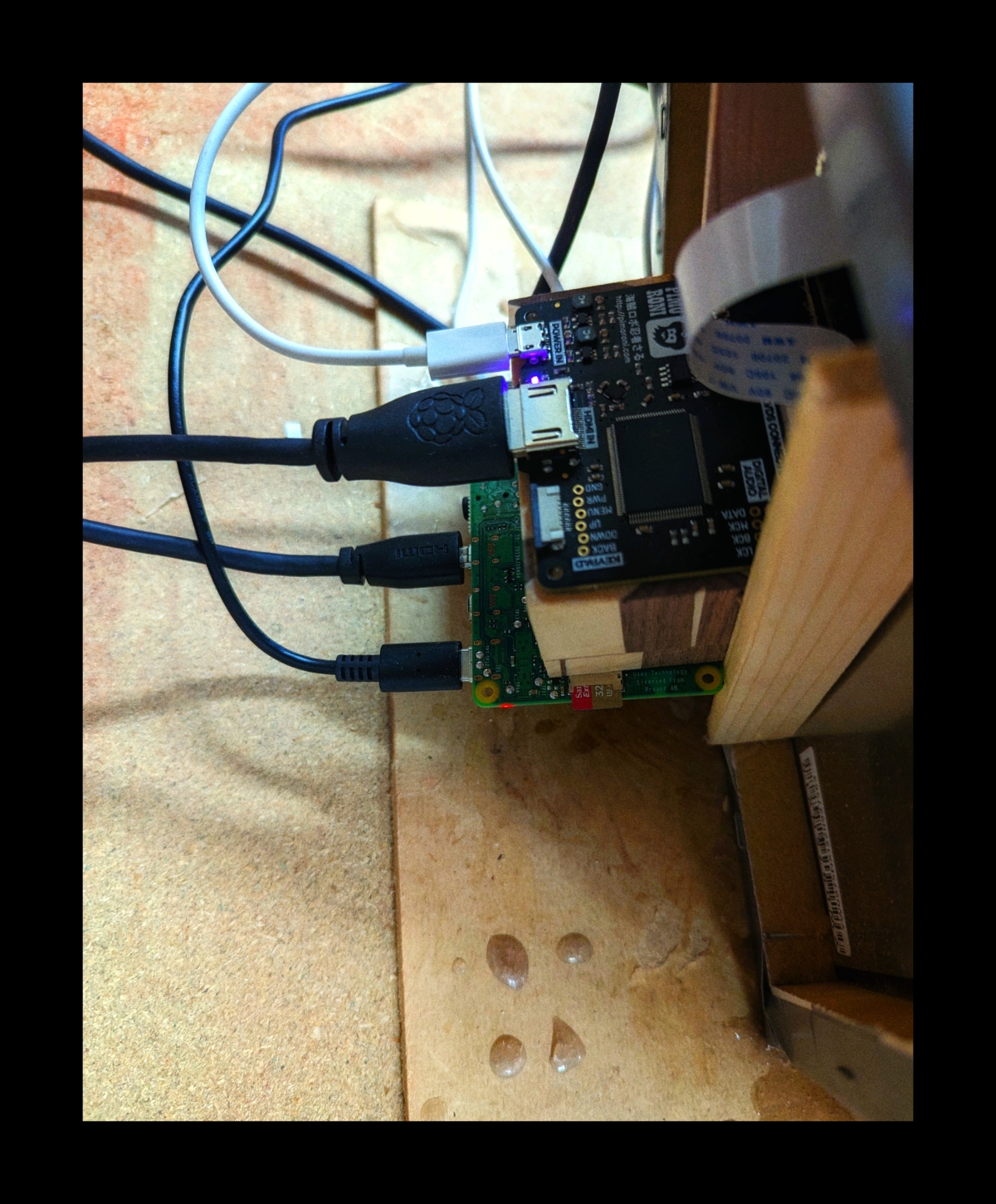 A study of construction foam. From bottom to top: Novipro (medium priced), PU Foam (Byggmax, budget), Würth purlogic (premium price), PU Foam (again), Bostik All Seasons (medium price)
Image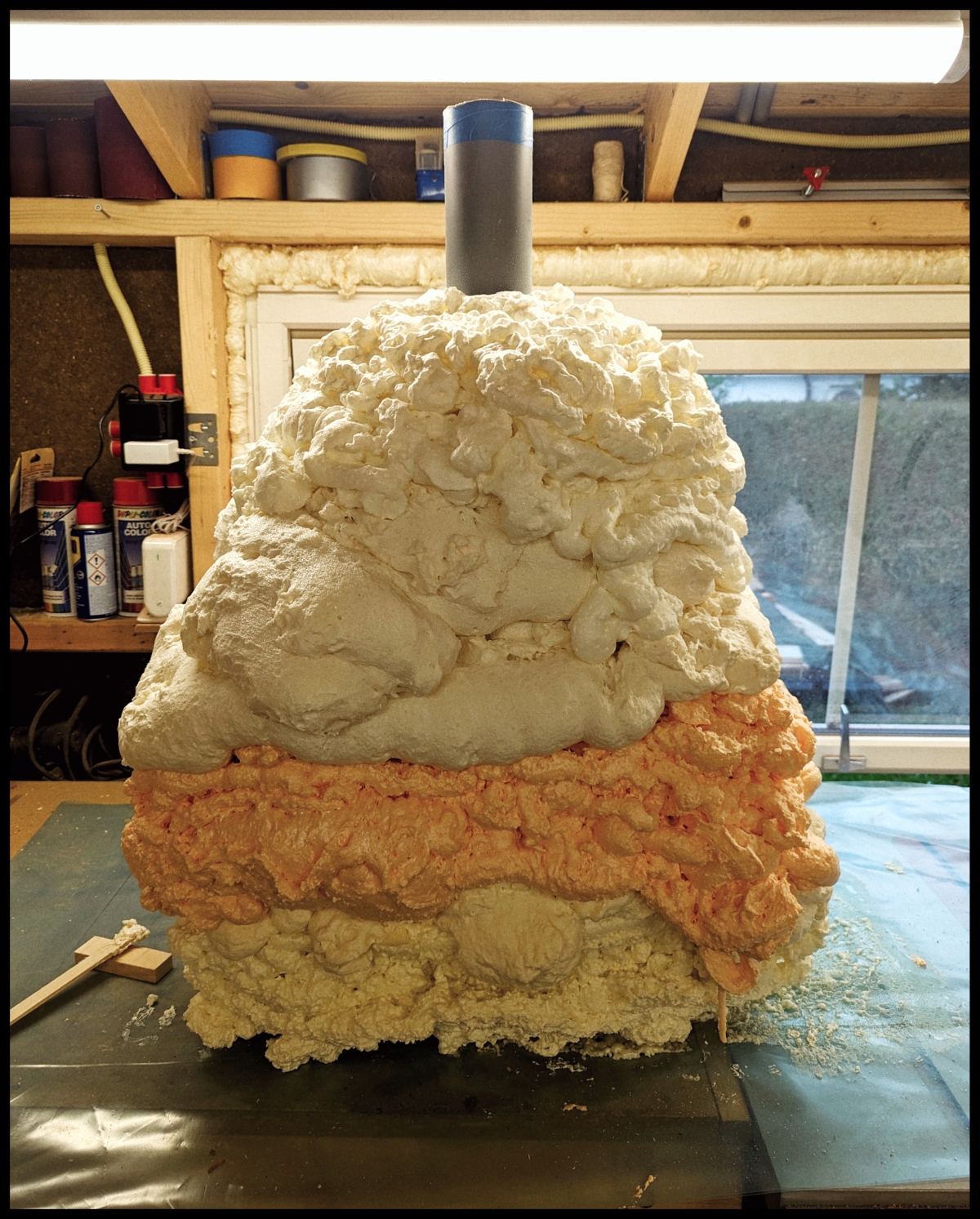 All of them, from left to right: Danalim budget, Byggmax PU Foam, Bostik all seasons, Würth purlogic, Novipro foam & Hilti CF125-5W50
Image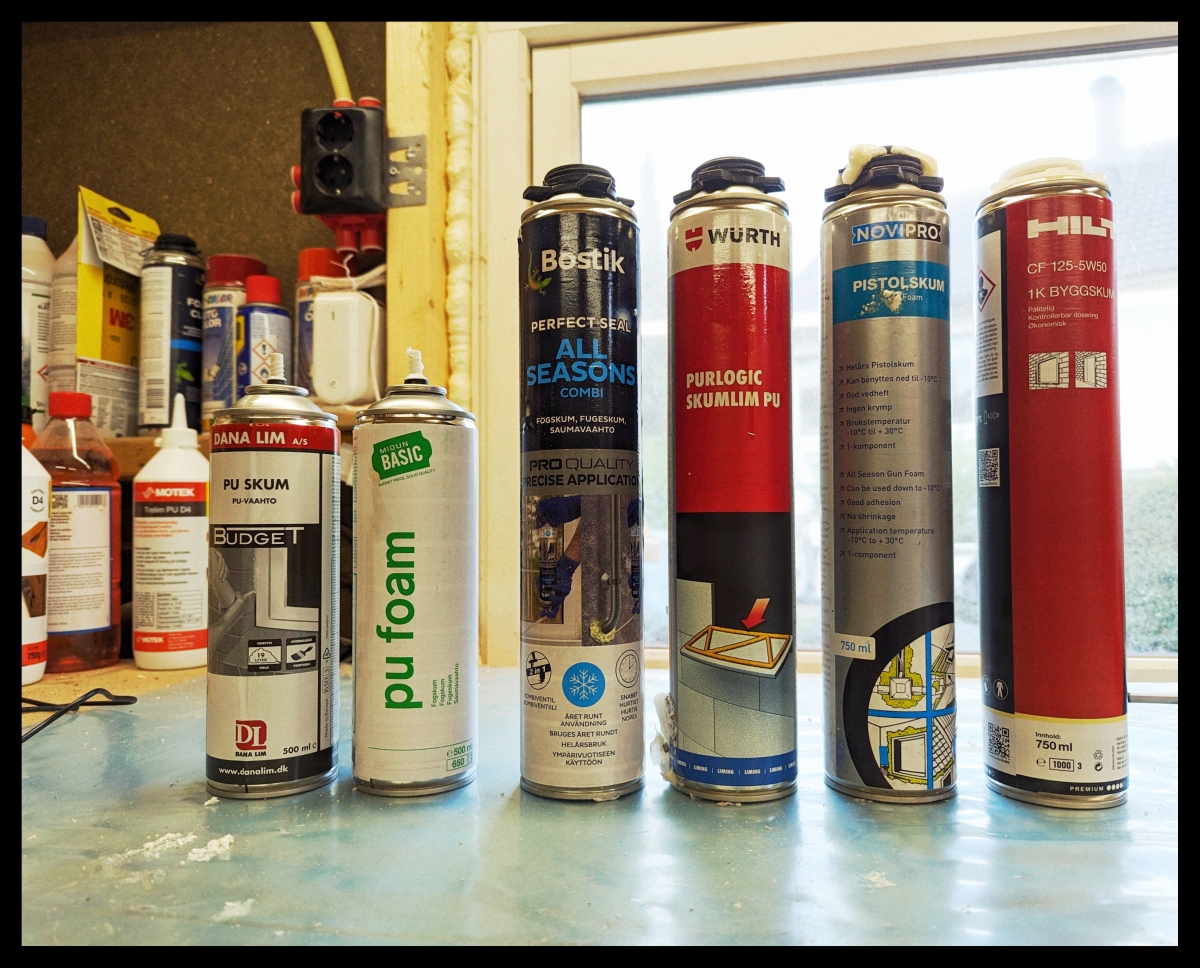 Display unit mounted on top of the base unit, ready to be enclosed in foam. 
Image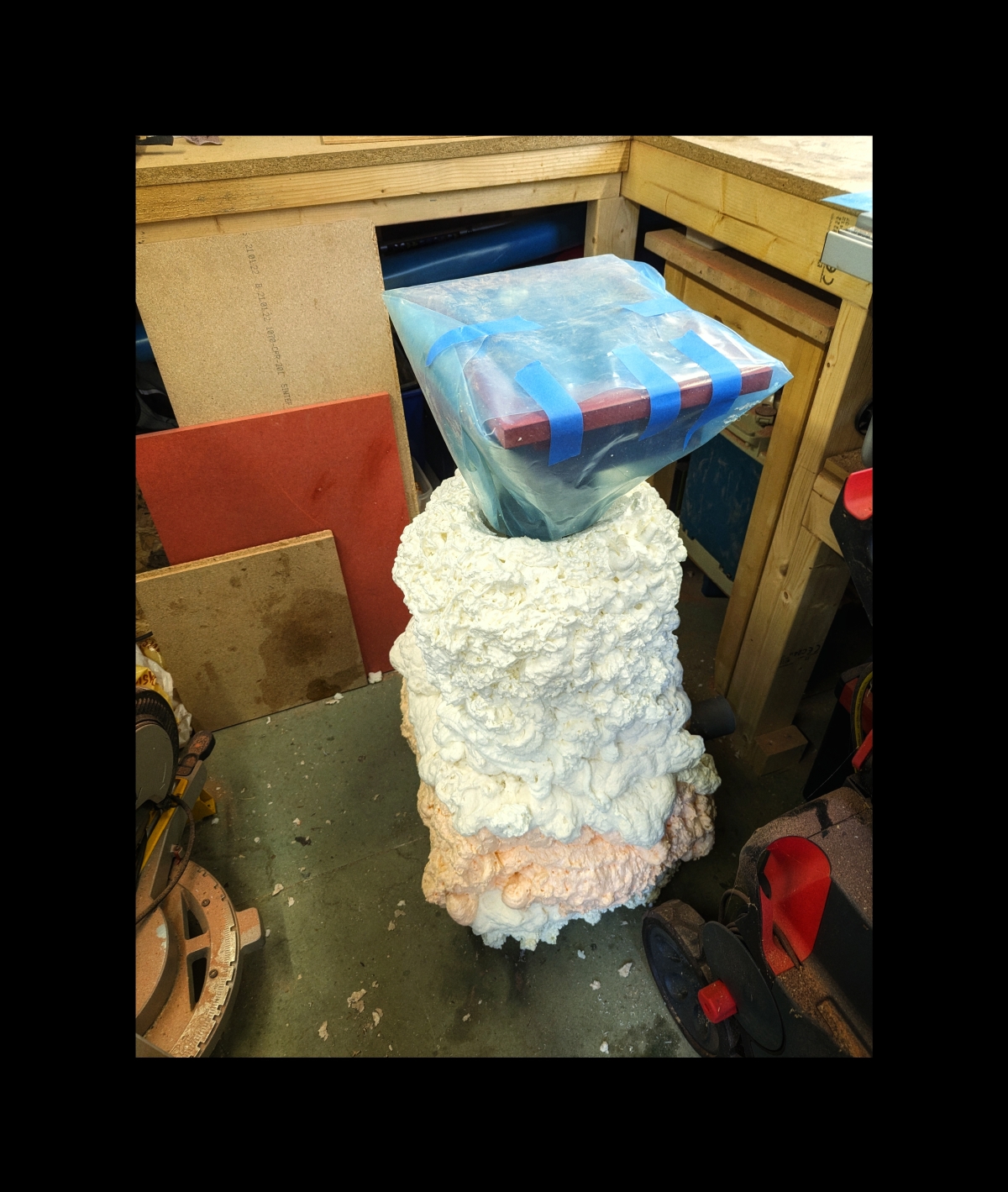 Foam! Foam! Foam! That top layer is the Hilti CF (super premium price tier), and lasted a lot longer than the rest. In total I used 11 cans of foam for this project, and would have managed with medium price foam. The cheapest ones are really not that good and end up being soft. 
Image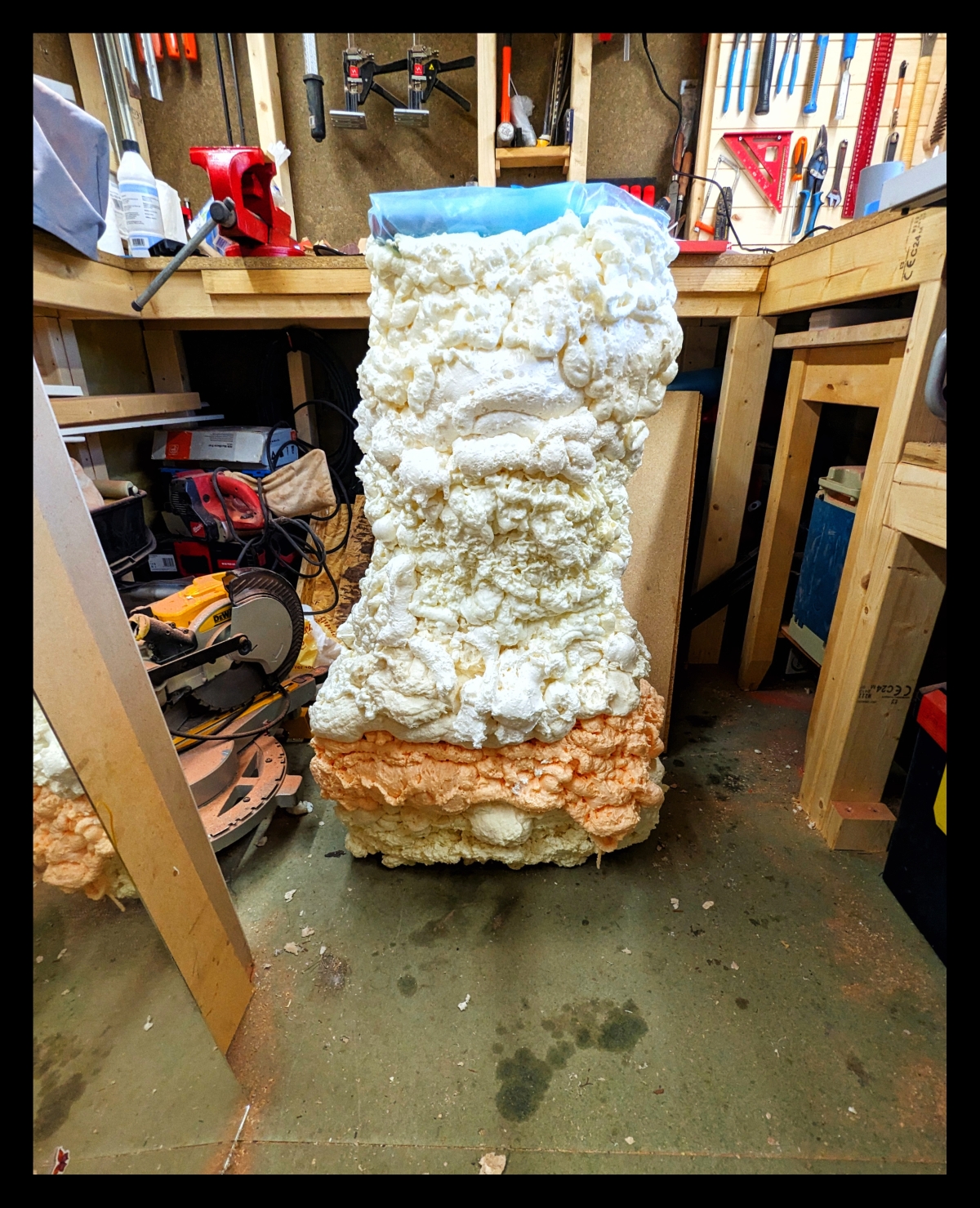 Will buy some proper headphones, but for now I'm using my Sonys connected with a cable. This is also what I will do when placed in the wild, with the connector kept inside to avoid wear and tear from usage. 
Image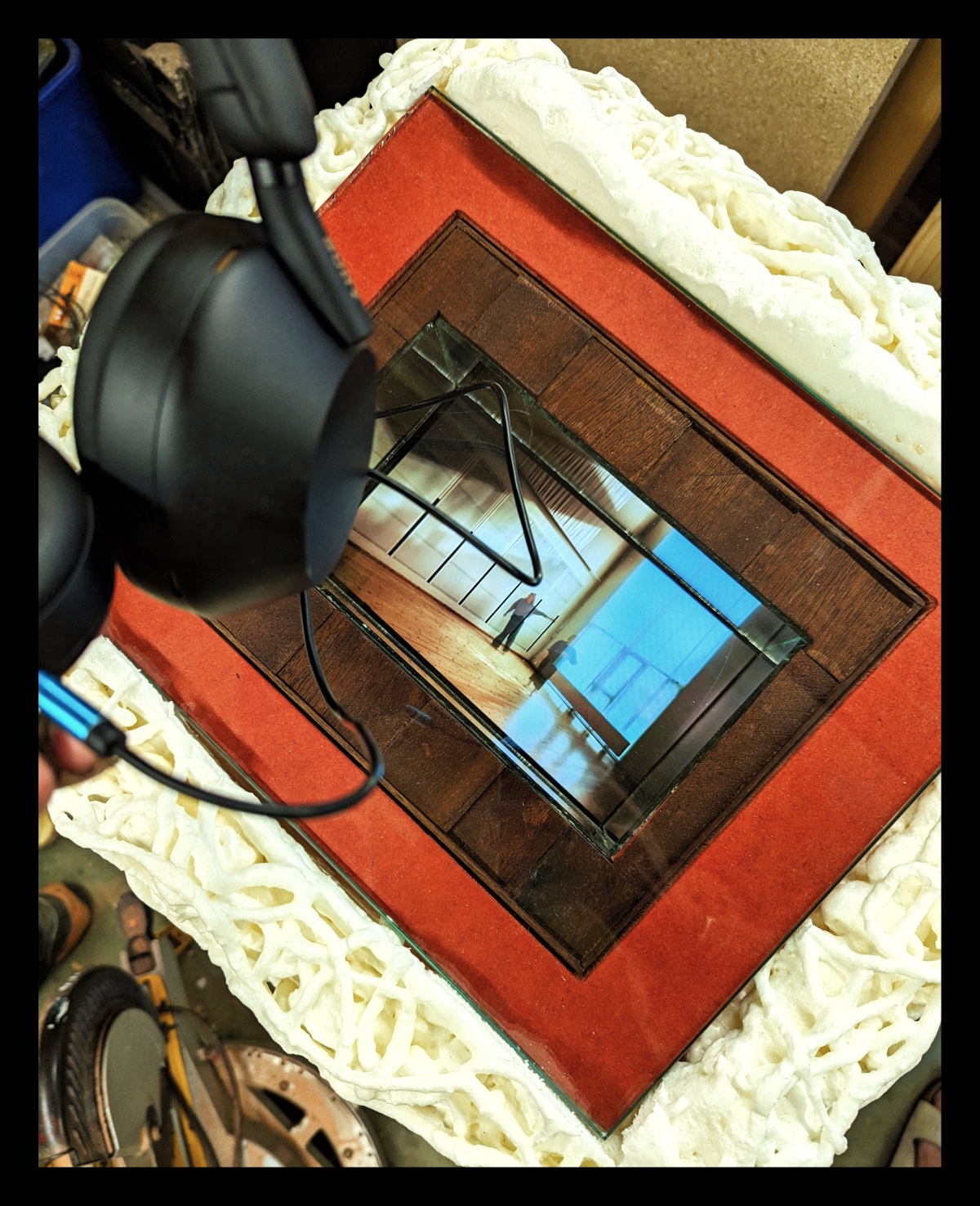 That last pic also shows a final item in the installation, which is a piece of hardened glass that lies on top of the display unit, protecting it from debris, dust, and pokey fingers. The entire unit came out quite well, and to keep it simple the headset will just be placed on top of the glass when not in use. This page will be accessible from a QR code that I will attach below the glass plate, keeping everything in touch, and tailgating, like always. 
Finally, all that was remained was doing some amateur paintwork on the headset:
Image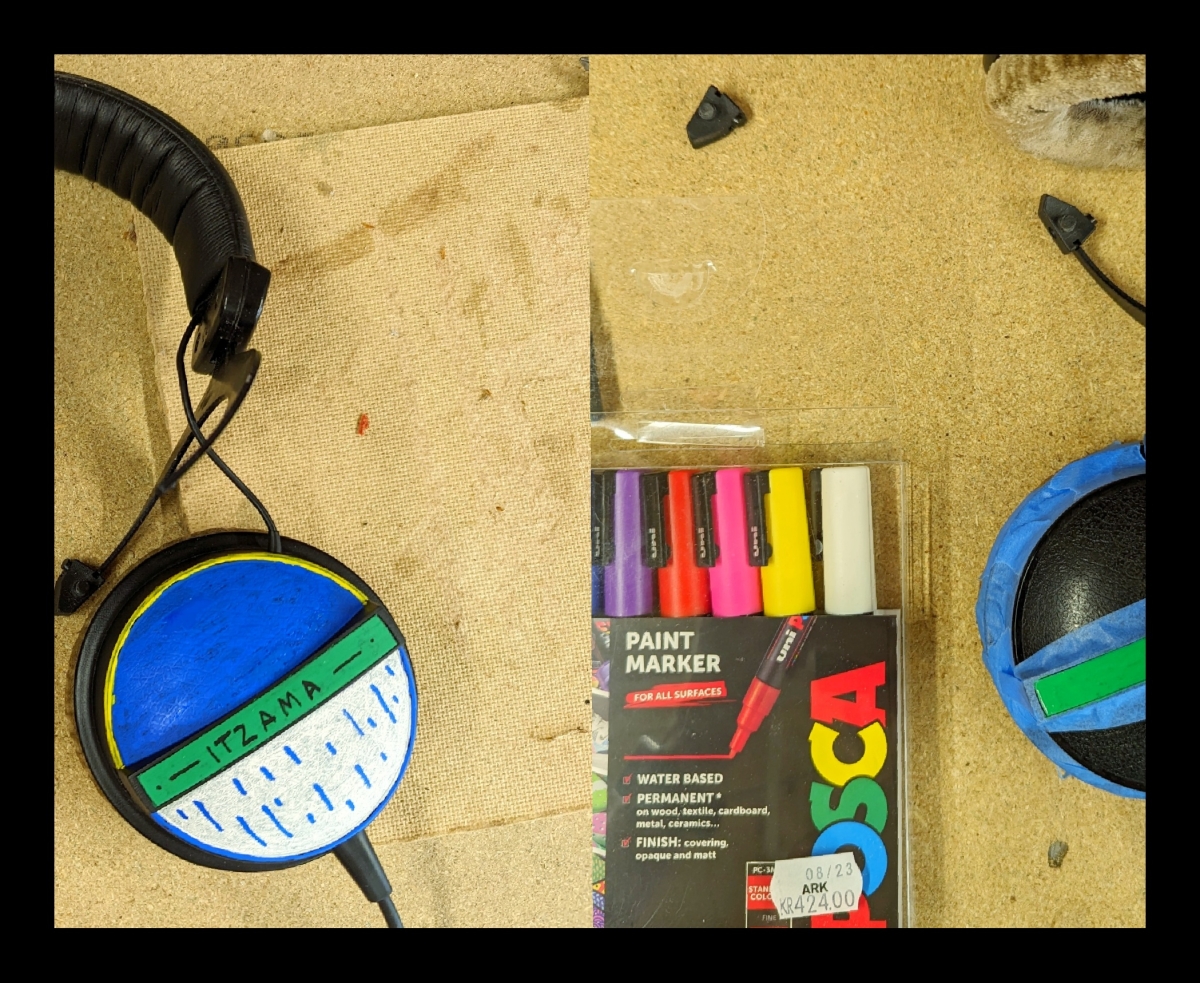 Image